"You're My Favorite Song" is a song originally sung in Spanish by Lucía Gil as Helena Vidal.
Lyrics
You may not know this,
This melody inside
It makes me tremble,
And it can't be denied
And so I'm playing guitar just
Maintaining my groove
That's all I know how to do

I hear the music and I want to go
It gives me reason, yeah, that's all I know
And now you sing with me, can't go wrong
'Cause I know you're my song
Tú no lo sabes,
pero me hace vibrar,
la melodía,
que cada día me das.
El ritmo de mi guitarra,
mantiene mi groove.
Quiero estar donde estes tú.

Y al escuchar el eco de tu voz,
surgen las notas en mi interior,
tú pones ritmo a mi corazón,
tú eres mi canción.
Gallery
| | |
| --- | --- |
| | To view the You're My Favorite Song gallery, click here. |
Video Gallery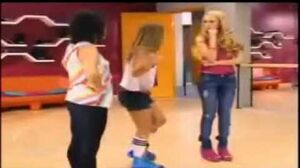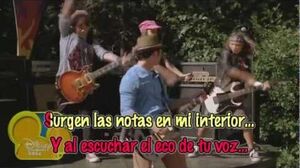 Trivia
This song was originally sung in the Spanish version of Camp Rock 2.
The original Spanish title of this song is "Tú eres mi canción" (You are my song).
This song was only ever sung in episode 52 of the first season.
The lyrics differ from the original lyrics from the English version of Camp Rock 2.
It is unknown who sings this song in English.
Ad blocker interference detected!
Wikia is a free-to-use site that makes money from advertising. We have a modified experience for viewers using ad blockers

Wikia is not accessible if you've made further modifications. Remove the custom ad blocker rule(s) and the page will load as expected.