"A Lie that Grows, a Song"

Season 1, Episode 61

Information
Air Date

October 1, 2012 (Latin America)
July 28, 2014 (UK and Ireland)

Prod. Code

061

Writer(s)

Solange Keoleyan and Sebastián Parrotta

Director

Matías Risi[1]

Episode Guide
Previous
Next
Episode 061, also known as A Lie that Grows, a Song is the 61st episode of the first season of the television series Violetta. It first aired on October 1, 2012, in Latin America, and it was directed by Jorge Nisco and Martín Saban and written by Solange Keoleyan and Sebastián Parrotta.
Overview
Violetta is about to tell Herman the truth when a fan recognizes her. She denies being on a reality show and then is forced to continue lying. Tomas accuses Ludmila of destroying Violetta's entry form, which leads to them having a fight. Later on, Violetta finds comfort in Tomas' arms, but they don't realize that Marotti has recorded it all.
Episode Summary
The 8 chosen participants of YouMix are already working on their profiles. Tomas decides to talk to Antonio about what happened with Gregorio's head, he said it was an accident and he is very sorry. Violetta also decided it was the time to tell the truth to Herman, but when she was about to tell him the truth, a girl recognized Violetta and asked for an autograph, but then Violetta lied again and told her she isn't part of the reality show. Ludmila confesses to Tomas that she destroyed Violetta's entry form. Tomas refuses to forgive Ludmila and breaks up with her.
The kids suspect that Andres is Gregorio's spy, but it's later revealed to be Broduey. Marotti and his team have installed cameras around the Studio, something that causes a lot of problems and fights between the students after Marotti uploaded the videos on the YouMix website. Marotti then called Andres to ask him how they could stir up trouble between the kids, and Andres told him to film Tomas and Violetta in the music room. It looked like they were going to kiss, and Marotti and Andres started thinking that they were secretly dating, because they also heard Violetta telling Tomas that she can't keep this "secret" anymore.
Cast
Main Cast
Recurring Cast
Unknown as Jacinto LaFontaine
Songs Featured
Trivia
Leon's bedroom was shown in this episode.
This is the first episode directed by Matías Risi.
Gallery
| | |
| --- | --- |
| | To view the Season 1/Episode 061 gallery, click here. |
Video Gallery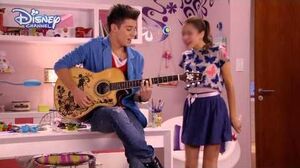 References
Ad blocker interference detected!
Wikia is a free-to-use site that makes money from advertising. We have a modified experience for viewers using ad blockers

Wikia is not accessible if you've made further modifications. Remove the custom ad blocker rule(s) and the page will load as expected.