"An Error, a Song"

Season 1, Episode 43

Information
Air Date

September 5, 2012 (Latin America)
November 6, 2013 (UK and Ireland)

Prod. Code

043

Writer(s)

Solange Keoleyan and Sebastián Parrotta

Director

Jorge Nisco and Martín Saban

Episode Guide
Previous
Next
Episode 043, also known as An Error, a Song is the 43rd episode of the first season of the television series Violetta. It first aired on September 5, 2012, in Latin America, and it was directed by Jorge Nisco and Martín Saban and written by Solange Keoleyan and Sebastián Parrotta.
Overview
Still dealing with having to choose between Tomas and Leon, Violetta has written a song that can help her. But what will happen if Tomas or Leon discover the song?
Episode Summary
Violetta still can't choose between Tomas and Leon, and she wrote a song called "Breathless" to help her choose the right guy for her. Angie and Beto suspect that Gregorio has a spy and it could be Andres or Broduey. Violetta gives Camila the music sheet of the song she has written for her for her rehearsal with Leon. Unfortunately, Violetta has given Camila the music sheet for "Breathless" by mistake and doesn't want Leon to find out about her problem. Violetta tries to stop Leon and Camila from playing the song, but it's too late. Leon tells Camila that the song they just played is about Violetta's feelings for both him and Tomas.
Cast
Main Cast
Guest Cast
Songs Featured
Trivia
The full version of Breathless is released in this episode.
Francesca and Camila fought for Broduey again.
Violetta had straight hair in this episode, but in dance class and the video for Breathless, she had wavy hair.
Gallery
| | |
| --- | --- |
| | To view the Season 1/Episode 043 gallery, click here. |
Video Gallery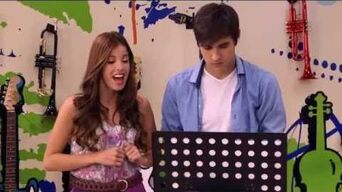 References
Ad blocker interference detected!
Wikia is a free-to-use site that makes money from advertising. We have a modified experience for viewers using ad blockers

Wikia is not accessible if you've made further modifications. Remove the custom ad blocker rule(s) and the page will load as expected.