The Castillo House is the house of Violetta Castillo and Herman Castillo. It is also the place where Olga (the maid), Ramallo (Herman's assistant) and Angie (Violetta's aunt and tutor) work.
History
It was mentioned in the first episodes that it was Violetta's childhood home, she lived there, with her dad and her late mother, until she passed away. Violetta and Herman returned to the house just before Violetta turned 17. Violetta has been living there ever since.
Known rooms in the house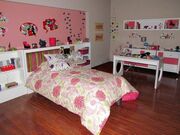 Violetta's bedroom
Kitchen
Herman's office
Living room
The attic
Guest room (only mentioned)
Angie's room
Bathroom
Herman's room
Ludmila's bedroom.
Residents
Trivia
Federico lives in the house when he's in Buenos Aires.
Esmeralda was the owner of the house, because Herman couldn't afford to keep it after he was arrested.
All of Maria's stuff is in the house's attic.
Violetta plays the piano a lot there.
All of the students from the Studio have been to the Castillo house.
Ludmila planted fleas there once, causing the house to become infested with them.
It is located in Buenos Aires, Argentina.
Ad blocker interference detected!
Wikia is a free-to-use site that makes money from advertising. We have a modified experience for viewers using ad blockers

Wikia is not accessible if you've made further modifications. Remove the custom ad blocker rule(s) and the page will load as expected.