Ludmila is out!


-Several episodes
Agustina Heredia

Information
Full Name

Agustina Heredia

Nickname(s)

Agus (by Tomas)

Gender

Female

Resides in

Buenos Aires, Argentina

Occupation

Student

Eye Color

Green

Hair Color

Brown

Family

Tomas Heredia (cousin)
Susana (aunt)
Unnamed uncle

Romances

Master Zambrano (crush-by-on)

Friends

Master Zambrano

School

Unknown

Production
First Episode
Last Episode
Portrayed By

Iara Muñoz
Cindy O'Conner (English dub)
Agustina Heredia is Tomas' little cousin that resides in Buenos Aires, Argentina. She supports Tomas to stay with Violetta.
Agustina is portrayed by Iara Muñoz.
Personality
She is very adorable and honest. She loves spending time with her cousin Tomas and gives him advice about girls. She doesn't know who Violetta is but she wants Tomas to stay with her because she wants him to be happy with the right girl for him.
Character History
Part 1
At the beginning of the series, Agustina is shown as a nice, friendly, sweet and very good person. She is Tomas' little cousin, and she loves him very much, she helped him with his love life and gave him advice, she supported him and will do anything for him. After a while, Master Zambrano falls for her, but she said they are both too young to date, but maybe in a few years, they will try and see how it works, but for now, Agustina wanted to be just his friend.
Relationships
Family
Cousin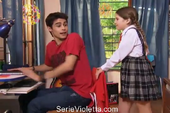 Tomas and Agustina are cousins, but Tomas is Spanish and Agustina is Argentinean, which we can tell by their accents. They live in the same house in Buenos Aires, so they can see each other every day. Tomas always takes her to school in the morning and in the afternoon, he takes her home. Agustina knows that Tomas likes a girl named Violetta, so she gives him advice about girls.
Friends
Master Zambrano
Friends/Crush-by-on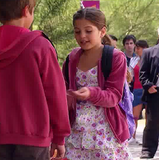 Agustina and Master Zambrano are friends. When they first met, Master Zambrano had a big crush on Agustina and he tried everything to make her give him a chance and see how it works. But Agustina says they are too young to date. Master Zambrano, heartbroken, decides to quit his career and become a normal child, so Agustina will like him. But she didn't want him to quit, so they agreed to stick as friends and maybe later, when they grow up, they'll give it a shot and Master Zambrano continued his life as a star.
Trivia
Ludmila thinks that she is annoying.
She is very smart and loves to read.
Master Zambrano is in love with her.
Gallery
| | |
| --- | --- |
| | To view the Agustina Heredia gallery, click here. |
Ad blocker interference detected!
Wikia is a free-to-use site that makes money from advertising. We have a modified experience for viewers using ad blockers

Wikia is not accessible if you've made further modifications. Remove the custom ad blocker rule(s) and the page will load as expected.